Davis Instruments - Weather Products - Vantage Pro2 - Vantage Vue®
Davis Instruments weather products are designed to provide the high level of accuracy, reliability and ruggedness our customers deserve. This site is full of helpful information, exciting products, and more. Take a look around and let us know how we can help you.
Vantage Pro2 Professional Series
The first weather station in its price range to use frequency hopping spread spectrum radio to transmit and receive data up to 1000' (300 m) line of sight. All our Vantage Pro2 stations include sensors that are combined into one easy-to-install package.
Accurate and Easy Setup
Temperature and humidity sensors are housed inside a radiation shield. The shield protects against solar and other sources of radiated and reflected heat, improving accuracy. Choose our standard radiation shield, or, for the utmost in accuracy, our fan-aspirated radiation shield.
Our integrated sensor suite combines the rain collector, temperature and humidity sensors, and anemometer into one package—making setup easy and improving performance and reliability.
Wireless
Wireless Vantage Vue - Fully Integrated Wireless Weather Station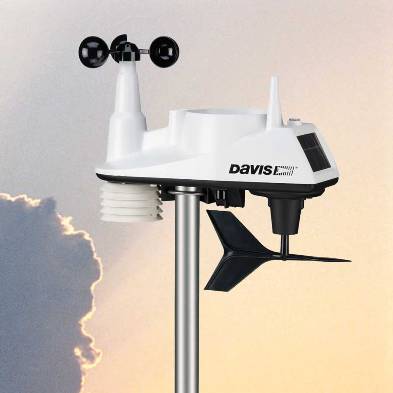 Our newest wireless weather station provides accurate, reliable weather monitoring in a self-contained, easy-to-install system. Vantage Vue® gives you all the weather data you need for home use, education, boating and more. Sleek but tough—your outdoor sensor suite sets up in minutes and starts sending data wirelessly to your console anywhere in your home, school, or business. You'll see current weather conditions, including indoor and outdoor temperature and humidity, barometric pressure, wind speed and direction, dew point and rainfall. You'll also get weather forecast icons, moon phase, sunrise/sunset times, graphing of weather trends, alarms and more. Vantage Vue also boasts the innovative Weather Center button that displays additional data on weather variables for today and over the last 25 days.

Download Complete Weather Instruments Catalogue 6.8 MB